I was very excited. I have been chosen as an intern, among dozens of other candidates, at a company that supplies technology services.
I was assigned the job of assistant sales manager. Clarissa was the manager I had to collaborate with, I had a work station next to her office, took appointments and I took care of her public relations.
One morning, I had to prepare a report that Clarissa would discuss with the governing board, but the day before I forgot my notes on her desk. Therefore I get to Clarissa's office to recover them. In raising the sheets I inadvertently move the mouse of her PC.
The PC was unlocked and the screen saver disappeared suddenly showing some photos of women in various poses, which were subjected to various methods to master voluptuousness.
All women scantily clad and wearing blacks or transparent pantyhose.
I remain shocked by the pictures and I hurried away. Unfortunately at that time Clarissa crosses the office door, surprising even care to stare at the screen. Her face, usually relaxed, was contracting in a tense expression, now.
"What the hell are you doing there? Have I allowed to peek into my business?".
Clarissa comes to me while I was flat on the wall scared. The report leaves fall at my feet, forming a mass decomposed.
She grabs both my arms and set them behind my back. From her desk, she take a red silk rope and wrap it tightly around my wrists blocking my hands. I try desperately to free myself from her grip, and I try to scream for help, but she led me opening my mouth and inserting a pantyhose into it.
Subsequently she took a first aid kit from a drawer and pulls out a roll of elastic band for sprains from the box.
She begins to wrap my mouth with several rounds of elastic band. Not yet satisfied, she takes a new package of transparent pantyhose from the drawer, pulls them off and then she puts it over my head throughout its length, thus firmly fixing the gag I had before.
My protests are now only faint moans barely perceptible. "That's better," says Clarissa, "I'll teach you what happens to nosy."
Clarissa looses the trousers of her tailler and slips off her shoes, remaining only in sheer flesh-colored tights and shirt.
She extends onto the floor, sitting on my face with her vagina covered by nylon next to my gag. "I'm much more comfortable now."
Breathing is very difficult, and at each attempt, my lungs are full of humors of Clarissa. Fear assails me thinking about what might happen next, but at the same time an irrational excitement began to pervade my mind.
After I submitted some minutes to the torture, Clarissa lifts my shirt and pulls me, leaving me topless.
"Oh, but what we have here. I must say that you're not bad at all". So she began to caress my body with her feet from sheer pantyhose, lingering on my nipples with a sensual movement.
Then she extends her supple legs over my chest and puts her feet on my face, again closing access roads through the air.
She goes on with this torture depriving me of air for a few seconds and then letting it fill my lungs.
Tired of this business she decides to make the game more interesting.
So she pulls off my tights and panties. Pushes back her feet against my face and shoves my pantyhose on my head at the same time wrapping her feet, pressed on my face. Oxygen deprivation is almost total and I can feel the smell of its ends mixed with nylon.
She keeps me locked in this position for 30 interminable seconds, then raises the pantyhose from my face to make me catch my breath.
Then she proceeds again with this torture for 3 more times. The fear inside of me has now given way to a overwhelming passion that creeps into my body and push my blood to throb violently.
"Well, I think that would suffice as a lesson for today. There is only a few last detail".
Just said what above, she gentky places her nylon veiled foot on my vagina by turning it around the pubic area, the contact of the nylon over my pussy causes an indescribable thrill, and soon my vagina becomes moist. So thanks to lower resistance, Clarissa begins to penetrate me with the tip of the foot, languidly stimulating my clitoris. The shivers of pleasure down my back go up and soon lead me to a lot of excitement poorly retained by the gag that forces me.
Clarissa smiled mischievously and begins to tidy herself up. Leaving me bound and gagged even she comes close to my ear and whispers "Thou shalt not do any word of what happened this afternoon. Otherwise, I will endeavor fire you and you will not get any other jobs in this state. If you behave yourself running all my orders, you'll keep your work and I will ensure that you enjoy my consideration in the future".
Of course I had little choice, but despite this I accepted with enthusiasm. Basically as a manager would have had lots to teach!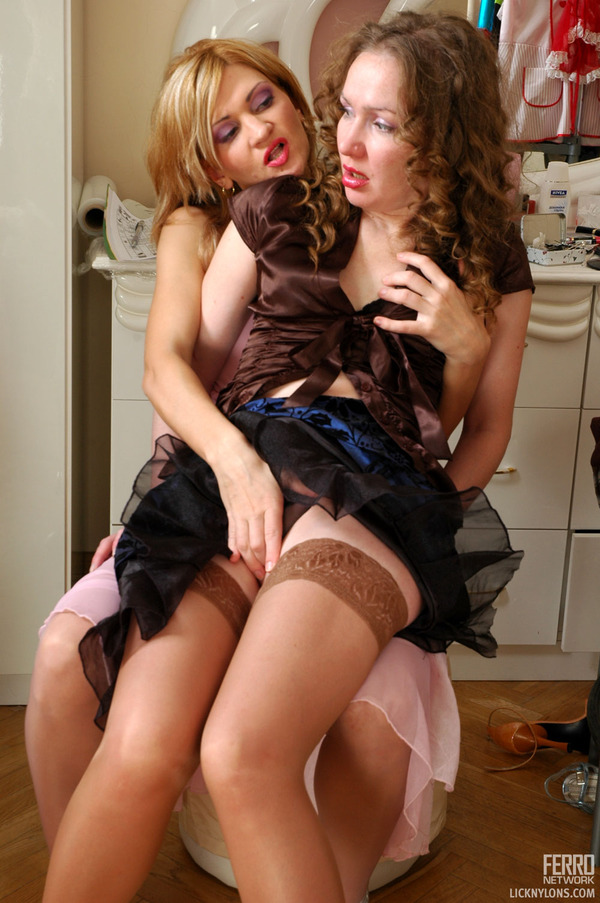 PantyhoseForLadies.com features decadent lesbian threesomes involved in a sensual and sophisticated pantyhose action. Enjoy smoking hot lesbian divas performing breathtaking acts of pantyhose worshiping, having nylon sandwich fun, circle licking each other's pantyhose clad pussies and playing many other nylon and lesbian games that combine the silky tenderness of pantyhose fetish with the wet sensuality of lesbian sex.